Derbyshire Community Champions awards held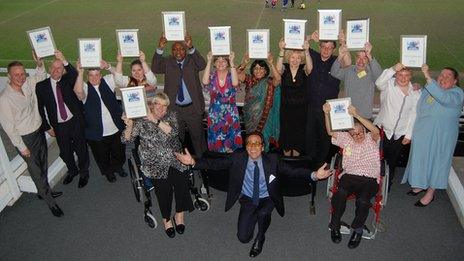 Some of Derbyshire's unsung heroes have been recognised in the county's annual Community Champions awards.
The 14 winners were honoured at a special event at Pride Park Stadium in Derby on Sunday night.
Each was recognised for their dedication to local communities and for inspiring others.
About 150 people attended the sixth annual awards, organised by BBC Radio Derby and the Derby Telegraph.
Derbyshire actor Robert Lindsay and antiques expert Charles Hanson were among the people handing out the awards.
The event also featured a performance by Derby band Miss 600, who recently appeared at the Cheltenham Jazz festival.
People at the event heard inspiring stories of the winners, including Mick Mills, who was named fundraiser of the year.
He has raised more than £20,000 to help others, despite the fact that he has Parkinson's disease and requires specialist round-the-clock care.
Other winners included Tim Etherington, who received the courage award in recognition that despite losing his sight at the age of 21, he decided it was not going to rule his life.
He now runs a bowling group for blind and partially sighted people.
Achieving Against the Odds Award - Katie Smith
Chief Constable's Special Award - John Augustin
Great Neighbour Award - Delia El-Hosayny
Be Inspiring Award - Jenny Birrane
Mayor's Special Award, Diversity - Jayshree Thaker
Kindness to Animals Award - Jo Gregory
Cultural Champion Award - Andrew Manning
Unsung Sporting Hero - Gordon Taylor
Extra Mile Award - Keith Brampton
Adult Volunteer Award - Eve Allen
Carer Award - Christine Lister
Fundraiser of the Year - Mick Mills
Children in the Community Award - Jack Mason
Courage Award - Tim Etherington