Derby fire deaths: Sixth child dies after house blaze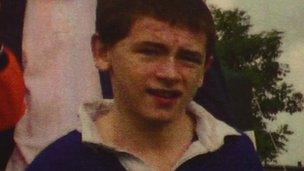 A 13-year-old boy has died in hospital days after five of his siblings were killed in a house fire in Derby.
Duwayne Philpott and his brothers and sisters were asleep upstairs in their Allenton home when the blaze began.
Their father Mick Philpott, who is believed to have 17 children, made "valiant attempts" to save them.
Police are treating the fire on Friday as suspicious. A man, 38, and woman, 28, were released without charge after being held on suspicion of murder.
Jade Philpott, 10, and her brothers John, nine, Jack, seven, Jessie, six, and Jayden, five, all died when the fire started on Victory Road in the early hours.
Post-mortem examinations carried out at the weekend confirmed the five children died of smoke inhalation.
Duwayne had received treatment at Birmingham Children's hospital, before his life support machine was switched off overnight.
Mr Philpott and Duwayne's mother Mairead were at his bedside.
Assistant Chief Constable Steve Cotterill said: "I am sad to confirm the news that Duwayne has died as a result of the injuries he suffered in the fire.
"My deepest sympathies go out to Mr and Mrs Philpott at this distressing time."
A spokesman from Birmingham Children's Hospital said: "Despite the intensive care team's greatest efforts, the injuries that Duwayne received in the fire were too great for him to survive.
"Our thoughts are with his family at this difficult time."
Duwayne was described by Christopher Reynolds, his head teacher at Saint Benedict Catholic School in Derby, as "a very pleasant young man".
He said: "He was gentle and caring. The things people remember about him are all nice, positive things. He genuinely was a really nice lad."
Patricia Hurd, head teacher of Jade, John, Jack, Jessie and Jayden's school, St George's Catholic Primary, said pupils and teachers were praying for the Philpott family.
"They leave a huge gap in our school community and will be sadly missed by all of us.
"We offer our deepest and heartfelt condolences to Mick and Mairead and to all the extended family and the Allenton community."
Mr Cotterill said on Sunday that police had not had the opportunity to speak to Mr and Mrs Philpott because they had been caring for their son.
He said police wanted to speak to anyone who was in or around Victory Road between 03:00 BST and 04:00 BST on Friday.
"I want to thank the local community who have already come forward but I would urge anyone with any information, regardless of how insignificant you think it may be, to contact us," he said.
Mr Cotterill also asked people to let police know if they spotted anything on social media sites that might aid the investigation.
"Please tell us what is being said. We don't necessarily get to know all of that," he said.
"If you've got access to Facebook and you see something there that you think is going to be important to us, please come forward."
The family were the subject of media scrutiny in 2006 when Mr Philpott asked the council for a larger house to accommodate his wife, girlfriend and 14 children.
In 2007, ex-Conservative MP Ann Widdecombe spent a week living with the family as part of an ITV documentary and Mr Philpott also appeared as a guest on the channel's Jeremy Kyle Show.
On Saturday, prayers were said for the children at a special service in Derby and a candlelit vigil was held.
People on the estate where the family lived said they had set up an online charity to help with funeral costs and anything else the family may need.
Related Internet Links
The BBC is not responsible for the content of external sites.