Derby fire deaths: Brother Duwayne Philpott critical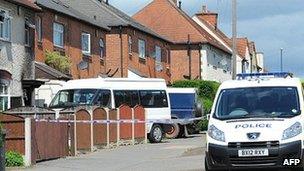 The 13-year-old brother of five children who died in a house fire in Derby remains in a critical condition in hospital, police have said.
Duwayne Philpott is being treated at a hospital in Birmingham, where his parents remain by his side.
The children were upstairs at the home in Victory Road when the fire began.
Police said they were treating the fire as suspicious. A man, 38, and woman, 28, were arrested on suspicion of murder but released without charge.
Four boys and a girl aged between five and 10 died in the fire in the early hours of Friday despite their father's attempts to save them.
The children, who had been asleep when the fire began, have been identified as 10-year-old Jade Philpott, John Philpott, nine, Jack Philpott, seven, Jessie Philpott, six, and Jayden Philpott, five.
Assistant Chief Constable Steve Cotterill said police were not getting enough information from the public.
He said: "While I thank those members of the community who have come forward with information I am surprised by how few people have contacted us. Normally in cases of this scale more information is passed to the police.
"I strongly suspect that there is someone out there in the community who knows more than we are being told.
"I fully understand that people may be reluctant to talk to us.
"My plea in this case is to remember that we are trying to find out exactly what caused the death of these five young children who had everything to look forward to in life."
He said that if anyone had been "confided in" then they should "speak up and do the right thing".
A Derbyshire Police spokeswoman said post-mortem examinations were being carried out to establish the cause of the children's deaths.
Prayers were said for the children at a special service in the town on Saturday and a candlelit vigil was held.
Local people on the estate where the family lived said they had set up an online charity called Catch Me When I Fall to help the family with funeral costs and anything else they may need.
The children's father, Mick Philpott, is believed to have 17 children.
His family were the subject of media scrutiny in 2006 when he asked the council for a larger house to accommodate his wife, girlfriend and 14 children.
In 2007 former Conservative MP Ann Widdecombe spent a week living with the family as part of an ITV documentary and he also appeared as a guest on the channel's Jeremy Kyle Show.
Related Internet Links
The BBC is not responsible for the content of external sites.