Derby family fire deaths: Brother talks of 'struggle'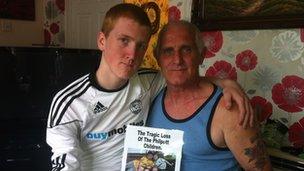 The 14-year-old half-brother of six children who died in a Derby fire says the family is "struggling" to come to terms with their loss.
Five children aged between five and 10 died in the early hours of Friday after the blaze at a property on Victory Road in the Allenton area.
A sixth child, 13-year-old Duwayne Philpott, died in hospital on Sunday.
Mikey Philpott said "more than anything" he wanted "justice for my brothers and sisters".
Derbyshire Police have confirmed the fire was started deliberately and the deaths of Jade Philpott, 10 and her brothers John, nine, Jack, seven, Jessie, six, and Jayden, five are being treated as unlawful.
Mikey, who lives in Clipstone, Nottinghamshire, said he found out about the fire on Friday morning when he switched on the news.
"We knew something was wrong on the news as soon as we saw Victory Road and saw there had been a fire," he said.
"I'm struggling and it's been really, really hard to take it all in, especially when we found out Duwayne didn't make it."
Post-mortem examinations revealed the five children died from the effects of smoke inhalation.
Duwayne had received treatment at Birmingham Children's hospital before his life support machine was switched off.
Their father Mick Philpott made "valiant attempts" to save them, according to the emergency services.
"We were pretty close," said Mikey, talking about his half brothers and sister. "I didn't realise how close I was to them until I'd lost them."
Surviving family members, including Mikey and his godfather Andrew Allsop, have started an appeal to raise money for the Philpotts.
"We have been keeping in touch with the rest of the family and supporting each other as best we can.
"The support and the money we've had so far has been really good," said Mikey.
The Philpott family attracted attention in 2006 when father Mick Philpott asked the council for a larger house to accommodate his wife, girlfriend and 14 children.
In 2007, ex-Conservative MP Ann Widdecombe spent a week living with the family as part of an ITV documentary and Mr Philpott also appeared on the Jeremy Kyle Show.
Police have renewed an appeal for information from anyone who was in or around Victory Road between 03:00 BST and 04:00 BST on Friday.
They also said any suspicious comments seen on social media websites should be reported.
A group of local business owners has also offered a £3,500 reward for information leading to a conviction in the case.
A man, 38, and woman, 28, were initially arrested but released without charge on Saturday.
Related Internet Links
The BBC is not responsible for the content of external sites.