Labour promises 'growth' as it takes control of Derby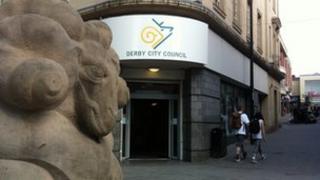 A meeting at Derby City Council has seen Labour officially take control of the authority.
The party seized power from the ruling Conservative/Lib Dem coalition at the local council elections on 3 May.
New council leader Paul Bayliss has pledged to make economic growth and social housing his priority.
Outgoing leader Conservative Philip Hickson said the people of Derby could look forward to a council tax hike and "a grim couple of years".
The new council is made up of 28 Labour seats, 14 Conservative and nine Liberal Democrats.
Mr Bayliss said: "The first thing we are going to look at is the agenda of growth and talk to some local employers about bringing some training programmes forward and then how we build council housing."
Mr Hickson, who blamed his coalition's election defeat on national issues, said: "The public will, in time, come to regret this [decision].
"Labour has made it clear they will hike up council tax and start a spending spree. The public will have a grim couple of years to look forward to."
The city's new mayor is also set to be unveiled at a separate event later.