Child joke council meeting pledge from new Derby mayor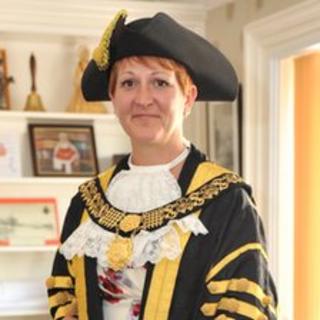 The new mayor of Derby has said she plans to invite a child to tell a joke at the start of every city council meeting for the next year.
Lisa Higginbottom, a Labour councillor for Mackworth, hopes the move will encourage young people to get involved with politics.
Mrs Higginbottom has pledged to "promote positivity" after taking up the position on Wednesday.
She said she hoped the jokes would create a good atmosphere at meetings.
"I want to have fun. Children's jokes are usually very amusing and I figured if a child told a joke at the very start of the meeting, it would set the spirit for that meeting," she said.
"I want children to become more engaged in what's going on."
Mrs Higginbottom said the children would be invited from different schools around the city.
Six-year-old Amber Banks, from Derby, was first to take up the challenge at Wednesday's mayor-making ceremony at Derby's Assembly Rooms.
She said: "What do you call a piece of wood with nothing to do? Board."
Mrs Higginbottom said the children would not have to sit through the whole of the meeting.