Derby fire deaths: Police plea over 'rumours and speculation'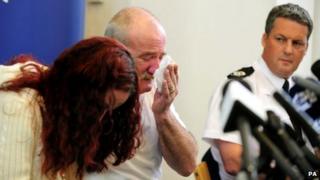 Police have appealed for the public to be patient as their investigation into a house fire in Derby which led to the deaths of six children continues.
The blaze in Allenton, on May 11, claimed the lives of six young members of the Philpott family.
Derbyshire Police said it was aware of "rumours and speculation" in the local community but said it would not be "jumping to conclusions".
The force said the investigation was "still in its early stages".
Jade Philpott, 10, and her brothers John, nine, Jack, eight, Jessie, six and Jayden, five, all died after the fire, on Victory Road.
Another brother, Duwayne, 13, died three days later in hospital.
Assistant Chief Constable Steve Cotterill said the force was continuing to offer support to their grieving parents Mick and Mairead Philpott.
'Drawn into speculation'
He said: "The investigation team are as committed as I am to getting to the truth behind the fire but we are still in the early stages of this complex inquiry.
"A significant amount of work has already been undertaken. We are still examining the vehicles and the forensic examination at the house continues. There is also more work to be done around the CCTV footage.
"Due to the volume of information coming into the investigation, it is imperative that the inquiries are conducted properly and thoroughly. Each piece of information needs to be painstakingly scrutinized.
"The team is working a considerable number of hours including weekends and the investigation is continuing at a pace.
"I am aware of rumours and speculation within the community and media but I refuse to be drawn into that and simply ask for patience and understanding to allow us the time to get to the truth without jumping to conclusions."
Thousands of pounds have been donated by well-wishers to help cover the cost of a funeral for the six children, the date of which has yet to be set.