Views sought over use of Peak District's 'green lanes'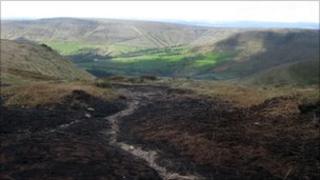 The Peak District National Park Authority has started a consultation on whether traffic should be banned or restricted on some of its green lanes.
The "lanes" are unsurfaced roads in the national park used by "recreational vehicles" such as 4x4s and off-road bikes.
The authority wants to know what people think about traffic restrictions on Long Causeway and Roych Clough.
Opinions are first being sought by statutory bodies and other groups.
Christopher Pennell, chair of the Peak District National Park Authority's audit, resources and performance committee, said: "Long Causeway and the Roych are routes identified as priority areas where we are looking to improve the management of the green lanes.
"User groups on all sides are agreed that these sites need managing in a better way and consultation gives them the chance to highlight the ways they would like to see this done," he said.
Important matter
During the 28-day consultation, groups are being asked if traffic regulation orders are needed or not. The groups will then be asked what form these should take and how long they should be in place.
In March, the authority announced it would monitor 27 unsurfaced roads in the national park for use by 4x4s and off-road bikes.
Mr Pennell previously said: "In addition to our responsibility to protect the special qualities of the national park, we know that the issue of recreational 4x4s, quads and trail bikes using green lanes matters a great deal to local communities.
"We have listened to their concerns and in December committed £100,000 of extra resources to this work to protect the national park despite the budget cuts we have made in other areas."
The park, which attracts more than 10 million visitors a year, has land located in Derbyshire, Staffordshire, West Yorkshire, Cheshire and South Yorkshire.