Diamond Jubilee beacon lit on roof of Derby house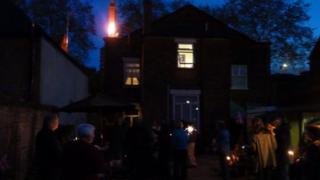 A Derby woman has lit a beacon on the top of her house to mark The Queen's Diamond Jubilee.
Pamela Bence put herself forward to host one of the city's allocation of beacons after the council advertised for volunteers.
She said every precaution was taken to make sure the flame was lit safely at 22:15 BST.
About 56 beacons were lit across Derbyshire as part of a national celebration to mark the occasion.
Mrs Bence's beacon, on top of her home in Liversage Place, was one of several lit in the city with Spondon, Oakwood and the University of Derby also having one.
Glass of champagne
Mrs Bence said: "There was about 20-30 of us in the garden with champagne and sparklers.
"We did a countdown and made as much noise as we could. The beacon almost made me cry - it was wonderful."
The Derbyshire beacons formed part of a national chain of flames lit between 22:00 and 22:30 BST to mark The Queen's 60 years on the throne.
Other locations hosting beacons around the county included Crich Stand, Riber Castle, Renishaw Hall, Baslow Edge and Poolsbrook Country Park.