Derby fire deaths: Philpott parents not at funeral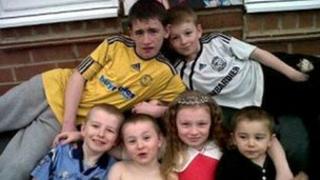 The funerals of six children who died in a house fire in Derby are to take place later this month.
Jade Philpott, 10, and brothers John, nine, Jack, eight, Jessie, six and Jayden, five, died in the 11 May blaze. Duwayne, 13, died three days later.
Their funeral will be at St Mary's Church in St Alkmund's Way on 22 June.
It is understood from family sources that parents Mick and Mairead Philpott, who are in custody charged with the children's murders, will not attend.
The bodies of the children, who died in the fire on Victory Road, were released by the coroner earlier this week.
An inquest into the deaths was opened and adjourned at Derby Coroner's Court last month.