Ripley and Codnor A610 bypass plan revealed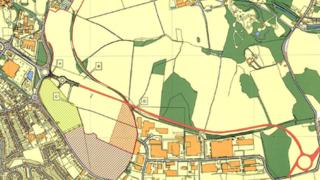 Amber Valley Borough Council has revealed the route of a planned bypass.
The £8m road will connect the A610 between Ripley and Codnor, taking traffic away from the congested Nottingham Road.
The plans include space for 400 homes, an extension to an industrial park and a doubling of the recreational space.
The project's funding depends on supermarket chain Morrisons getting planning permission to build a store on council-owned land.
'Within our grasp'
Amber Valley council leader Stuart Bradford said the announcement was a "long-awaited" development.
He said: "We made this commitment some while ago that we would look for a better solution, following representations from the residents on Nottingham Road.
"Now it's within our grasp. We can deliver it."
Building could begin within a few years and initially will only divert traffic from Ripley, rejoining the A610 at Codnor.
The borough council hopes that future development will fund a second phase, which would relieve traffic in the centre of Codnor as well.
The leader of Ripley Town Council, Steve Freeborn, said he was concerned by the plan.
He said: "I very much want to see a bypass built around Ripley and Codnor, but I do not want to see a half-hearted, halfway house solution such as appears to be on the table."
Mr Freeborn described it as a "stupid, stupid idea".
'Not a priority'
The borough council said the project was suggested more than 30 years ago, and that it had taken four years to reach a deal with landowners.
Borough councils are not responsible for highways, but Derbyshire County Council has given the project its blessing.
Mr Bradford said as the bypass was not a county council priority, relying on income from commercial development was the only way to fund it.
Morrisons is expected to submit a planning application for its proposed store this summer.
If granted, the sale of the Nottingham Road recreation ground to the supermarket chain would fund the road.
The building of the bypass would allow for an 18-acre recreation ground, which is much larger than the current facility.
However there has been opposition to the loss of the existing park.