Derby Cathedral Peregrines Project secures £50,000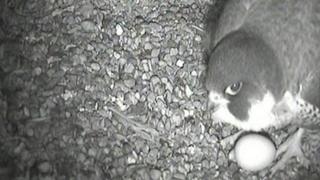 Derby Cathedral Peregrines Project has secured £50,000 of funding to develop the six-year scheme.
The project began in 2006 when a nest platform was constructed on the cathedral's tower. The birds of prey have bred there every year since.
Derbyshire Wildlife Trust said the money would allow web cameras at the nest to continue running.
The project will also employ an officer over the next three summers to get more people interested in the project.
The grant, from the Heritage Lottery Fund, will also be used for new equipment and a technical consultant.
'Boost to lives'
Nick Brown, from Derbyshire Wildlife Trust, said it had "spent a lot of time preparing a bid" for the peregrines project.
"The project runs on a lot of voluntary work," he said.
"We will now be employing an officer each summer for the next three summers who would draw in communities, schools and people to the project who we have not really been able to reach."
Four peregrine chicks which hatched in May have recently begun to fly. They are expected to leave the next in August.
"There are so many people in and around Derby who have never come across the peregrines and people with disabilities who can't get out of the house," Mr Brown said.
"We've heard that people who have discovered the live streaming of the peregrines on the internet have found them to be a boost to their lives, be being able to watch the birds while they're at home."
The trust said the 2006 project's webcams had allowed people in more than 70 countries to watch the progress of the birds.
The project is a partnership between Derby Cathedral, Derbyshire Wildlife Trust, Derby Museums and the Cathedral Quarter.