Derbyshire Building Society offered 'partnership'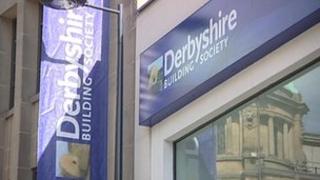 A local business leader has written a letter to the parent company of Derbyshire Building Society offering a "partnership".
Nationwide announced 10 branch closures of the society earlier this month.
George Cowcher, chief executive of the Derbyshire and Nottinghamshire Chamber of Commerce, said he has offered a partnership "to keep the iconic local brand alive".
Nationwide said it was in the process of responding to the letter.
Mr Cowcher said he wanted to "stop the rot" to ensure the Derbyshire Building Society brand "isn't quietly wound down".
Nationwide has announced plans to shut eight branches in Derbyshire and two in Nottinghamshire, following a recent review of its operation.
Mr Cowcher said thousands of customers relied on their local branches, and that a partnership could help re-establish local relationships with businesses and consumers.
Loyal customer
He said: "Derby used to have a real strength in the financial services sector, thanks to the presence of brands like the Derbyshire and Egg, but following the recent closures of both their head offices, that is no longer the case."
The chamber said it represented 3,400 local firms and was a "loyal customer" of the Derbyshire.
Nationwide said: "We are in the process of responding to Mr Cowcher's letter and will communicate directly with the Derbyshire and Nottinghamshire Chamber of Commerce."
Nationwide merged with the Derbyshire Building Society in 2008.
Earlier branch closures took place two years ago, which were blamed on slow trading and the close location of the branches to existing Nationwide branches.
The branches to close are at Allestree, Alvaston, Chaddesden, Normanton, Spondon, Duffield, Long Eaton and Somercotes, all in Derbyshire.
In Nottinghamshire, the Eastwood and West Bridgford branches are to shut.