Brooklands Primary School pupil's 'knife-threat' angers parents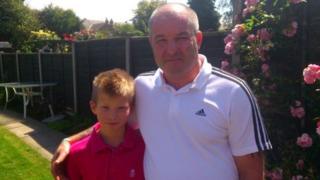 The parents of a boy who had a penknife held to his throat by a fellow pupil have been left "disgusted" the school did not contact them about it.
Ten-year-old Sean Skinner's father Stephen said he found out only when he got an apology from the mother of his son's attacker, also 10.
Brooklands Primary School, in Derbyshire, apologised, but said it was initially unaware of the incident.
Derbyshire Police said the incident, on 24 May, was reported to them.
Head teacher Shaun Thorpe said the boy who carried out the attack had been permanently excluded from school.
'Quite bemused'
However, Mr Skinner said he was not happy with the way the school had handled the situation.
"I'm disgusted and I'm quite bemused that they [the school] hadn't even attempted to contact us in any way," he said.
"If you can get to those kids now and sort them out then maybe they might lead a normal law-abiding lifestyle.
"If you don't, those kids are going to think nobody will really do anything and before you know it they've killed somebody or seriously injured somebody."
Mr Thorpe explained the school's own investigation had been delayed by the half term holiday.
'Ensure safety'
Initially, staff were only told the boy had been holding a knife, he said, and it was only later "they were told it had been held to Sean's neck".
Mr Thorpe said: "Normally in cases of bullying and threatening behaviour we would speak to parents of all children involved.
"This did not happen immediately and we apologise for this.
"On this occasion our first priority was to investigate the matter fully and ensure the safety of all our pupils."
Derbyshire Constabulary said the incident happened on 24 May and was reported to them the following day. Officers now plan to speak to both pupils involved.