Bomber Command Memorial stirs veteran's emotions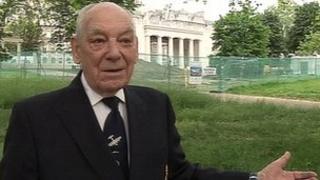 A Derbyshire Bomber Command veteran said it was "amazing" that a memorial to the service is to be unveiled - but feels "bitter" it has taken so long.
Ted Cachart, 87, from Heage, was a wireless operator on board a Lancaster, but crashed in Germany in 1944.
Almost half the 125,000 men who served with Bomber Command lost their lives.
Mr Cachart helped raise money for the memorial, to be unveiled in London on Friday, and said many comrades had felt "overlooked and forgotten".
Mr Cachart joined up in 1941, at the age of 15, after lying about his age.
Moral controversy
He wrote a book about his wartime experiences, Ted the Lad, to raise funds for the World War II Bomber Command Memorial.
He said: "It is amazing. It is something we have waited so long for and now to see it almost complete is absolutely brilliant.
"Sixty-seven years is a long time to wait for a memorial but it is going to be worth it, now I've seen it.
"It will be a true justification to all those who lost their lives, the 55,573 who were killed, absolutely in their honour."
Bomber Command's role was to attack Germany's air bases, troops, shipping and industrial complexes connected to the war effort.
Controversy about the effectiveness of the bombing campaign, along with criticism of the civilian casualties, led to Bomber Command being ignored when other branches of the armed services were honoured.
He added: "I do feel bitter it has taken so long. I think all of us in Bomber Command feel as if we have been overlooked and forgotten.
"But now we are going to be remembered, and remembered for many years to come."