Darley Dale and Corbar maternity units close to patients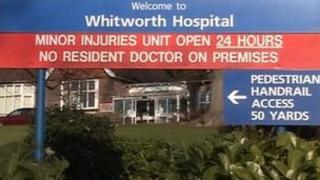 A rural maternity unit in Derbyshire will close a week earlier than planned due to "unavoidable staffing issues".
In November 2011, Derbyshire Primary Care Trust said the Darley Dale and Corbar Birthing Centres near Buxton would shut.
It said the number of births was too low to justify costs, despite campaigners disputing claimed savings.
Darley Dale birthing centre will close on 29 June and Corbar will be closed from 1 July.
In a statement, NHS Derby City and NHS Derbyshire County said: "Chesterfield Royal Hospital has had to close Darley Birth Centre a week early due to unavoidable staffing issues."
In future, the community midwifery team for the Dales will be based at Whitworth Hospital and the High peak team will be based at Buxton Hospital.
Dr Ben Milton, chair of North Derbyshire Clinical Commissioning Group, said: "We are fully committed to maintaining high quality, local antenatal and postnatal services following the closure of the birth centres.
"We have listened attentively to the concerns raised around breastfeeding support during the engagement process and will be putting in place some additional breastfeeding support in response to this."