Derby A38 roundabouts get £4m improvement scheme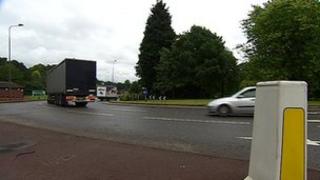 More than £4m is to be spent on two roundabouts in Derby to cut congestion.
The Little Eaton and Markeaton junctions on the A38 will be redesigned with full time traffic lights and new lanes.
The Highways Agency said it would start detailed planning and design for the schemes this financial year, with work to be completed by 2015.
Decisions on more major changes at the junctions, possibly including a flyover, have been deferred until 2014.
Mark Powell, from the Highways Agency, said: "We are doing this now because the government wants to invest in these pinch points to relieve congestion and boost the economy.
"These are places we have identified where a comparatively small amount of investment can produce some big benefits to the local economy and to road users."