Derby buses to get 'route champions' to improve services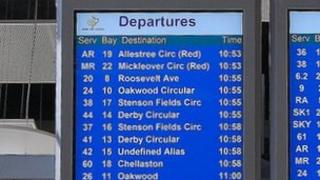 Derby City Council has pledged to improve public transport by restoring a bus partnership which was scrapped by the previous administration.
The Labour-led authority is relaunching the scheme in which each route has a "passenger champion" to liaise with bus users and operators.
The partnership was shut down by the Conservative/Liberal Democrat coalition while it was in charge of the city.
The council said it hoped to encourage more workers to use public transport.
The relaunched partnership will start with a meeting between bus operators and passenger representatives at Derby's bus station.
Ranjit Banwait, the council's cabinet member for neighbourhoods, said: "This move will put a focus on improving public transport for all passengers."