Derbyshire burglar Ashley Hextall cut elderly woman's phone lines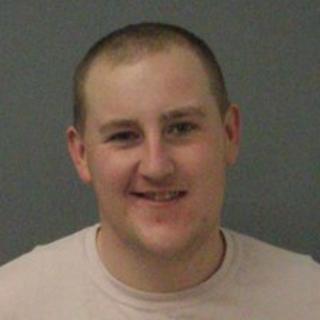 A man who cut an elderly woman's phone lines while burgling her Derbyshire home has been jailed for five years.
Ashley Hextall stole more than £1,000 from his 83-year-old victim after breaking into her home in Bretby.
The woman found her phone lines had been cut when she tried to call for help. Det Insp Darren De'ath said she had been left upset and shaken.
Hextall, 27, of Shiloh Close, Woodville, was sentenced for the burglary and other offences.
Det Insp De'ath said: "The burglary at Bretby was a particularly nasty incident.
"He walked into the woman's home, demanded her bag and took it from the floor by her feet before running out.
"When she tried to call for help, she found her phone lines had been cut and she went to a neighbour's house to raise the alarm."
He was given a four-year sentence for the burglary on 13 May.
He had previously been given a 12-month suspended sentence for a burglary in Swadlincote, which he must now serve.
At the hearing at Derby Crown Court Judge David Pugsley also gave him three months, to be served concurrently, for having a knife in public and one month concurrently for taking meat from a supermarket.