Derby £100m flood plan approved despite cash shortfall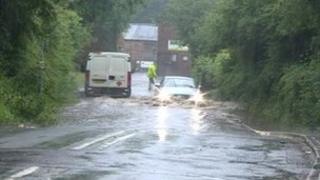 Plans to spend more than £100m on Derby's flood defences have been approved by the city council.
But it confirmed it is yet to find the £60m of private investment needed for its 20-year, Our City, Our River project.
It said the masterplan, agreed at a cabinet meeting on Wednesday, would see defences put up at vulnerable points.
Councillor Hardyal Dhindsa said getting the plan agreed was only the first step.
He said the £60m over 20 years could be affordable but the authority needed to make it stack up.
"We think the government should contribute more. [They will] fund 28% of the total capital cost of this project.
"The partnership working is clearly where the issue is."
Last week a number of roads across Derbyshire became flooded following torrential rain, including Derby's Markeaton Lane and Moor Lane in Breadsall.
The council said roads close to the River Derwent would have retractable barriers installed which could be raised if water levels were high.
The proposals included the need to demolish some buildings, such as the city council's Exeter House flats.
Some new developments could be designed with flood defences in their ground floors.
Andrew Meehan, from the Little Chester Residents Association, said he was still worried about the funding and also how residents in some areas would be able to get home insurance in 2013.
The council said: "The government is currently negotiating with the Association of British Insurers regarding flood insurance beyond the end of the current agreement in 2013, but the outcome of this is out of our control.
"Through our proposals we are planning to reduce local flood risk, and would therefore expect insurance to be looked at more favourably once improved flood defence measures are in place."