Derby velodrome plans approved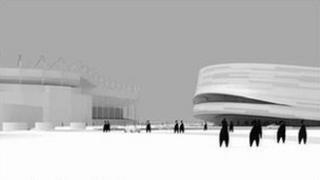 Derby City Council's cabinet has backed plans to build a £28m velodrome and sports centre.
The decision to give the velodrome the go-ahead was made at a cabinet meeting of the Labour-run council on Wednesday evening.
The development had been approved by the city's Conservative/Lib Dem coalition but it lost control at the local elections in May.
Derbyshire-based builders Bowmer and Kirkland will work on the development.
Derby city councillor Martin Repton said the council had to follow strict guidelines in appointing the contractors.
"We are obliged to stick to strict criteria, we can't take into account whether they are local or not," said Mr Repton.
"That might surprise some people but we have to stick to hard facts and figures. The two issues which actually gave it to Bowman and Kirkland were the price and the quality."
5,000-seat centre
Bowmer and Kirkland must now make sure the Environment Agency is happy with their plans for the development's foundations as the velodrome will stand on a former landfill site.
Mr Repton added the company must also make sure the plans were within budget. If both guidelines are met, the build will take 18 to 24 months to complete.
When the council's administration changed in May, the Tories decided to hand over final contract signing to Labour, who ordered a review into the development.
A report was presented to the cabinet recommending the selection of the preferred contractor for the construction.
The 5,000-seat centre, which would be able to host other sports, has planning permission for land next to Pride Park stadium.
Once complete, the facility will also feature a gym, function rooms, badminton and basketball courts and a cafe.
Planning permission was first granted in March, with work scheduled to begin this month.
It had been hoped it would open early in 2014.
The city council said it had already started to take bookings for the centre.