London 2012: Derby Cathedral to sound bells for Team GB golds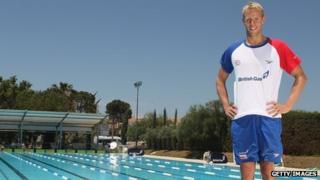 Derby Cathedral's bells are to be rung for an hour on each day Team GB wins a gold medal at the London 2012 Olympics.
A group of bell ringers from across Derbyshire have arranged to congregate at 20:00 BST every time British competitors have struck gold.
Organiser Anthony Cotton said the idea was formulated when the bells were rung during the Olympic torch relay's visit to the city in June.
The bells will be rung on each day gold has been secured before 19:15 BST.
Mr Cotton said: "We rang a special piece here at the cathedral for the Olympic torch celebrations and decided we wanted to be part of the actual Olympic games.
"It would be amazing if we had to ring every night for the duration of the Olympics."