Highways Agency face Derbyshire A52 pothole concerns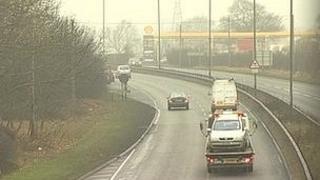 A major Derbyshire road will only get small-scale repairs, despite drivers' complaints about potholes.
Motorists say the surface of the A52 from junction 25 of the M1 to Spondon - the Borrowash bypass - is so bad it is damaging vehicles.
The Highways Agency said it had an ongoing programme of emergency work to keep the road safe.
But any substantial resurfacing would have to be considered alongside other road projects, it added.
Tim Henton, who runs a garage near the road, said he was seeing about six serious repairs a week.
"We seem to be having a lot of problems with coil springs breaking on the front end of the vehicle.
"These are actually piercing the front tyre, causing a puncture and dragging the car to one side of the road."
Repair review
He added: "Driving on the A52 [potholes] are often so close together you can't avoid them and anyway, swerving is in itself very dangerous."
The Highways Agency confirmed it had received a number of complaints about the road.
It added: "To ensure that the A52 remains safe for road users, we will continue to carry out emergency repairs where needed and we are reviewing the need for more comprehensive patching work later this financial year.
"A full resurfacing project on the A52 between Risley and Cole Lane is being considered against other safety and maintenance priorities in the region."
The road suffered serious problems in early 2010 after cold weather led to the surface breaking away.