Moorhead Primary School blames council for academy delay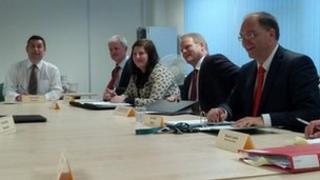 A Derby primary school has accused the city council of getting in the way of its plan to become an academy.
Moorhead Primary School says its scheduled switch on 1 September is under threat because of the authority's refusal to sign a key document.
The contract asks Derby City Council to accept liability for any staff legal claims relating to its time in charge of the school.
The authority says it is not prepared to take on additional financial risk.
'Issues need resolving'
Schools which opt to become academies leave council control and receive their funding directly from the government.
When Labour assumed control of the council in May, one of its first decisions was to withdraw the extra support offered by the council for schools following this route.
It said it had fully co-operated with Moorhead ahead of its changeover but felt unable to accept the extra liability as it would no longer receive government funding for the school.
In a statement the authority said its refusal to sign the document would "in no way" prevent the school becoming an academy on 1 September.
The change will see staff members who previously worked for the council transferred to the school's new sponsors, the Landau Forte Charitable Trust.
But Adey Greaves, chairman of Moorhead's governors, said the school needed to resolve the legal issue with the council before proceeding with the transfer.
He said: "We're stuck between a rock and a hard place. We've got angry parents... who were expecting us to become an academy as of September and presently we're stuck in limbo.
"But we will become an academy - whether it's on the first of September, October, November, December or even another year. It will happen, but we need to get some issues resolved before we do."