Derby house fire: Two held over Philpott children deaths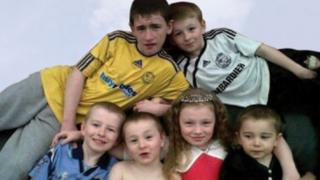 A 34-year-old man and a 29-year-old woman from Derby have been arrested in connection with a fatal house fire.
Six children from the same family died following the fire on 11 May on Victory Road in Derby.
The latest arrests were made at another house on Victory Road. Police have not disclosed what the man and woman are being questioned on suspicion of.
Mick Philpott, 55, and his wife Mairead, 31, the children's parents, have been charged with murder.
Jade, 10, and brothers John, nine, Jack, eight, Jessie, six and Jayden, five, died in the fire and Duwayne, 13, died three days later in hospital.
Derbyshire Police said: "These latest arrests are part of the ongoing investigation into the circumstances surrounding the fire."
Assistant Chief Constable Steve Cotterill from Derbyshire Police said: "Despite the fact that two people have already been charged with murder, we are continuing our investigation to ensure that all lines of inquiry are completed.
"No further information will be released at this time."