Power cable failure at Derbyshire festival linked to metal theft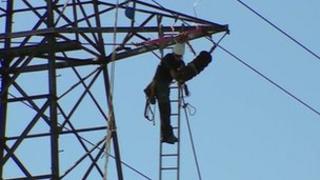 The theft of cable at a Derbyshire substation led to the evacuation of a Derbyshire music festival, power officials said.
Western Power Distribution said the metal theft in Heanor on Thursday had caused a blackout.
When power was rerouted to deal with the blackout, an overhead cable snapped in a field near the Rock and Blues Old School Weekender Festival at Pentrich.
The festival, which attracts about 3,000 people, will go ahead as planned.
'Electric' atmosphere
"Under normal circumstances, the cable [at Pentrich] would adequately cope with the level of electricity running through it and we do not know how it came to be damaged.
"The problem has now been fixed and everything is now back to normal," spokesman Michael Clarke said.
The incident happened at Coney Grey Farm near Ripley shortly after midnight on Friday.
No-one was injured and fire crews installed a cordon in the area while Western Power Distribution worked on the problem.
Station manager David Crowther, from Derbyshire Fire and Rescue, said: "An electrical cable fell from an overhead pylon striking the camp - it was a lucky escape for a lot of people."
Stallholder Aly Hushaq said: "We thought we were being attacked or that something had happened like a petrol bomb going off."
Clive Thomas Jackson, lead singer of the group Doctor and the Medics, who was hosting the event, said: "The crowd was as good as gold - you could say the atmosphere was 'electric' - and it got a huge cheer."