Spondon rail crossing redesign considered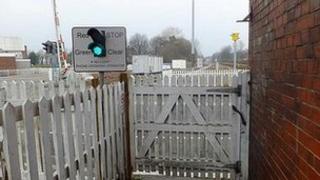 Network Rail is considering a redesign of a busy level crossing in Derby after concerns were raised about its safety.
The firm has recently fitted the Spondon crossing gates with magnetic locks to prevent them from opening when trains are approaching.
But the company had previously said it was concerned that passengers could be trapped inside the gates.
Rachel Lowe, from Network Rail, said the locks were an interim measure while a long-term solution was found.
She said Network Rail was looking at a number of options, which included moving the pedestrian gates inside the automatic barriers.
Retired signals engineer Malcolm Tunley had called for the locks to be fitted after he said the crossing was needlessly dangerous.
The crossing has road barriers, along with flashing lights and a siren to warn of approaching trains.