Dovedale stepping stones reset after flooding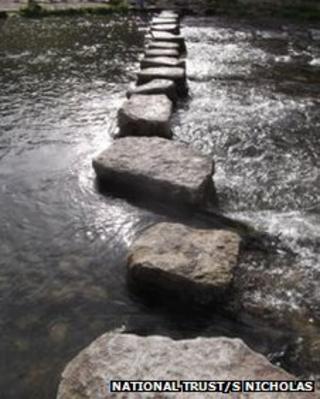 Work to repair a set of famous stepping stones in the Peak District has been completed after flood water dislodged two of them last month.
The two Dovedale stones moved after heavy rainfall caused the River Dove to swell over the top of them.
Debris, including tree branches, collected behind the stones and they became loose.
The National Trust said the stones had now been reset and can be safely accessed by visitors.
Kate Learmouth, from the trust, said "We are delighted that people will once again be able to make use of this iconic river crossing."
The crossing, which is made up of more than a dozen slabs, was immortalised by Izaak Walton in his famous 17th Century fishing book, The Compleat Angler, and has featured on postcards of the Peak District.