Serioza Lawskoski: Gang jailed for Derby street murder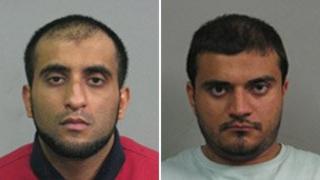 Five men have been given life sentences for murdering a father-of-three who died after being hit with a hammer and kicked in a Derby street.
Serioza Lawskoski, 29, may have been mistaken for another man, Nottingham Crown Court heard.
Judge John Milmo said the intended victim was not known because the defendants had told "a pack of lies".
The men, who were convicted after a nine-week trial, were given minimum terms of between 17 and 22 years.
Imran Rashid, 29, of Madeley Street, and Raja Jeelani, 26, of Depot Street, were given 22-year minimum terms.
'Very fortunate'
Robuel Islam, 25, of Loudon Street, and Rizwan Ahmed, 23, of Northumberland Street, were given 18-year minimum terms while Ahmed's brother Usman, 19, also of Northumberland Street, was told he would serve a minimum of 17 years in prison.
Another brother, Kamran Ahmed, 21, was jailed for eight years after being convicted of conspiring to cause grievous bodily harm. He had originally been charged with murder but this charge was dismissed during the trial.
The judge told the men: "Your intended victim was never made clear because in the dock you all told a pack of lies.
"There is someone who is alive and well and living in Normanton who is very fortunate."
Mr Lawskoski, from Leacroft Road, Pear Tree, Derby, was confronted by the gang shortly after leaving a friend's house in Cummings Street, Normanton, on the evening of 23 April last year.
'Wholly unprovoked attack'
He was found lying unconscious in the street and was taken to the Royal Derby Hospital where he was pronounced dead.
The judge said the men had robbed three children of their father in what was a "wholly unprovoked attack on someone who posed no threat to you".
The five men found guilty of murder were also convicted of conspiring to cause grievous bodily harm against Mr Lawskoski.
Det Supt Andy Stokes, who led the inquiry, said: "The men have shown no remorse for what happened that day and we may never know why the group decided to attack an innocent man."
In the same trial Rashid and Jeelani were also convicted of conspiring to cause grievous bodily harm against 20-year-old Renato Blackwood, who was assaulted in St Mary's Wharf Road, Derby, on 1 January 2011.