Derby's Caribbean Carnival called off over alcohol permit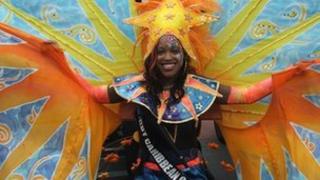 Derby's Caribbean Carnival has been cancelled after organisers failed to apply for an alcohol permit in time.
The family fun day had been due to take place at Osmaston Park on Sunday after it was previously cancelled on 22 July due to wet weather.
But the Derby West Indian Community Association decided to call it off after being told it had missed the deadline for a Temporary Event Notice.
The city parade part of the carnival took place on 21 July.
'Just turn back'
Derby City Council said: "Whilst the carnival organisers had applied for a Temporary Event Notice for the sale of alcohol for the original event on 22 July, they failed to do so for the re-scheduled dates within the statutory time limits the council has to adhere to.
"This is in spite of a reminder to them issued by the police.
"Regrettably, as the deadline for applications had passed, the council's licensing committee was unable to issue a Temporary Event Notice."
The carnival has been held in Derby since 1975 and a film documenting its history was released last month.
George Mighty, chairman of the Derby West Indian Community Association, said: "[Alcohol] is a part of people's entertainment.
"They come out for the day and without a licensed bar they would probably just turn back or go up the road and buy a drink - and that's not what we want."