Derby City Council to pay NHS over hospital planning row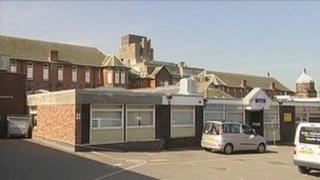 Thousands of pounds in legal costs are expected to be paid by Derby City Council to the NHS after a planning dispute.
The authority refused to award Derby Hospitals NHS Foundation Trust planning permission to redevelop the former Derbyshire Royal Infirmary site.
But the decision was overturned at appeal and now the city council has to pay the trust's legal costs.
The trust plans to replace the site with a supermarket and houses.
It also hopes to create about 300 jobs.
The city council had objected to the demolition of the main Edwardian building on London Road to make way for the Nightingale Quarter scheme.
'Very disappointing'
Following a planning inquiry in February, the government decided the sale should be permitted for the development.
In a report, the Communities Secretary Eric Pickles said there was "no persuasive evidence that the ... proposal would be likely to undermine the vitality and viability of the city centre".
He said of the hospital: "Its significance is limited due to the unexceptional quality of the building as originally constructed."
Sara Bolton, chair of Derby City Council planning committee, said: "I think I can speak for the whole committee, it was an unanimous decision and unfortunately the NHS foundation trust decided to appeal against that.
"It is a very disappointing decision and we are still awaiting the costs that unfortunately we have been awarded to pay.
"The planning control committee doesn't have a budget which is even more of a worry for us at these economic times."
Lee Outhwaite, director of finance at Derby Hospitals NHS Foundation Trust, has said: "We look forward to working more closely with the city council, particularly on the elements of the redevelopment proposal which will benefit ourselves and the council, such as the 'health hub' part of the scheme."