Gwen Taylor joins Derby Hippodrome restoration group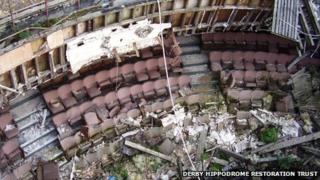 Coronation Street actress Gwen Taylor has joined a campaign to restore a former Derby theatre.
Taylor, who grew up in the city, has agreed to become president of the Derby Hippodrome Restoration Trust (DHRT).
The group wants to save the derelict Grade-II listed theatre, on Green Lane, which has been damaged by a number of fires and a partial demolition.
Taylor said she was optimistic the building could one day become a successful theatre again.
The Hippodrome, on Green Lane, opened in 1914 but was last used as a theatre in 1959. It then became a bingo hall before closing in 2007.
Its current owner, businessman Christopher Anthony, had planned to demolish the building and replace it with a multi-storey car park, but this was rejected by Derby City Council in 2010.
The DHRT is now calling for the authority to acquire the building and recently commissioned an architectural study which estimated it could be restored for about £15m.
'Big show' theatre
Taylor, who also starred in Duty Free, A Bit of a Do and All You Need Is Cash, was approached by the trust while appearing in a play in Derby earlier this year and agreed to lend her support.
She said: "It would be nice in the very centre to sustain that building and bring it back to life.
"I think it would be a touring theatre - ideal for those big shows that there isn't really anywhere quite suitable for at the moment in Derby.
"The outside of the building is pretty sound. It's just the inside that's wrecked and feeling very sorry for itself."
The Good Life actress Penelope Keith also backed the restoration campaign during a visit to the city in 2010.
She said: "It's a listed building and it should be preserved. It's part of Derby's history."