Ryan Walker quarry death: Plans to fill Far Hill rejected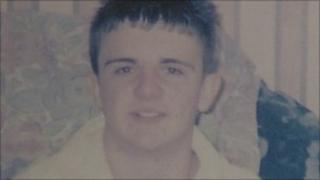 The family of a teenage boy who drowned at a disused quarry in Derbyshire said they were extremely disappointed by a decision not to fill part of it in.
Ryan Walker, 15, from Holmegate, died while swimming in the lake at Far Hill quarry, near Ashover, in May 2009.
Since then his family have fought to get the site made safe.
An application by JC Balls Ltd to fill the quarry with soil was turned down by the county council after residents raised concerns over increased traffic.
'It's the coldness'
Ryan's mother's partner Jason Clarke said: "We're pretty devastated really, we've been trying for quite some time to get it closed.
"I can understand and see the reason why people are attracted to the quarry, but the water's so cold and it [quarry] is just not a good thing being there open and disused.
"There's a different kind of mineral in the water, it makes the water change to the colour that it is, I think that's what's making it inviting.
"But it's the coldness of the water... people when they're jumping in might not be prepared for the shock of the water."
Chairman of Derbyshire County Council's planning committee Martyn Ford said although the 130,000 tonnes of material would eliminate flooding at Far Hill - which is also known locally as Fall Hill - it was an unnecessary amount.
"It's created a very fine line between engineering works and landfill.
"[Landfill] is the very least thing we need to be doing there, we need to be looking at reusing and recycling."
Chairman of Fall Hill Landfill Action Group Keith Horner said he was pleased with the decision.
"The economic benefits to the owner and the applicant did not outweigh the disruption and loss of amenities to the local community.
"Our offer to work with Tracey Walker, whose son tragically drowned in the quarry, to educate young people as to the danger posed by disused quarries, remains."