Derby Assembly Rooms replacement considered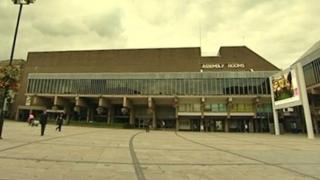 Plans are being made for a major arts venue in Derby to replace the city's Assembly Rooms.
Council, arts and business leaders said the new venue would cost between £25m and £40m and be "potentially the best in the East Midlands".
Bob Betts, who chairs the city's Active Culture Board, described the replacement of the Assembly Rooms as "long overdue".
The venue opened in 1977 but is considered by many to be outdated.
It has hosted many concerts in the past, including by acts such as Stereophonics and Manic Street Preachers.
Mr Betts said: "We're going to have to find the investment for it, both within and external to the city."
He said the arts venue would be the "next big thing" after the city's proposed velodrome and aquatics centre.
Alan Woolley, a Derby music promoter who has put on events at the Assembly Rooms, said a replacement had been needed for 15 years.
He said: "The Assembly Rooms has done its job over the years but it does need upgrading and bringing up to date."
Any new building would require approval from politicians and could take several years to become reality.