Tibshelf: Work begins on a new £14.9m school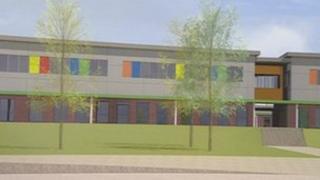 Building work on a new £14.9m school in Derbyshire has started.
Tibshelf Community School is being rebuilt with money from the county council and £8m from other Derbyshire schools.
The authority said construction plans had been put on hold when the Building Schools for the Future programme ended. It approved the new funding last October.
The school, which will cater for 750 pupils, is expected to open in 2013.
The council said it was delighted to have received the backing of the whole school community in setting aside around £8m of under-spending in the Dedicated Schools Grant to support the project.
The school is to include a facility to allow students with autism to learn alongside their peers.
Councillor Mike Longden said: "The biggest challenge has been finding the money, as usual, these days. But we've found it in the most innovative way.
"We've enlisted the help of all our schools. This community wants a new school, and it's going to have it."
It said the new school would rectify the current overcrowding problem and replace old and temporary buildings.