Barnes Wallis: Dam Busters inventor's birth marked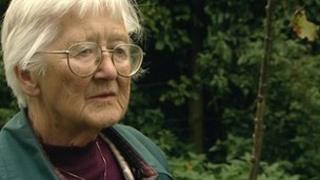 The man behind the Dam Busters' bouncing bomb has been celebrated in his Derbyshire birthplace.
The 125th anniversary of his birth was marked with an exhibition, lecture and tree planting ceremony in Ripley.
As well as designing the bouncing bomb, Mr Wallis pioneered airship, bomber aircraft and other bomb designs.
His daughter Mary Stopes-Rowe joined members of the Barnes Wallis Memorial Trust to talk about his life.
The tree-planting ceremony at the Barnes Wallis recreation ground, off Moseley Street, was followed by the talk at nearby St Joseph's Church Hall.
Ripley 'important'
Mrs Stopes-Rowe will give another lecture in the council chamber at Ripley Town Hall on 27 September and these will accompany an exhibition to mark the inventor's life and career.
Mary Stopes-Rowe said: "My father seems to remain a good talking point, through thick and thin, and very proud I am of him and very happy to have him remembered.
"The family moved away from Ripley when he was just over three but I think Ripley was very important and relevant in his later development."
She added: "I like to think his legacy is one of uplifting the position of engineering, which has always been looked down on in some ways."
Amber Valley Borough Councillor Liz Bowley said: "If you ask people here about Barnes Wallis, they are very proud.
Modern aircraft
"We organised the exhibition and I think Mrs Stopes-Rowe was very pleased we showed he was not just about war and was a gentle man."
Mr Wallis was born on 26 September, 1879, in Butterley Hill, Ripley, but moved south before beginning his career as an engineer.
Experience in airship design led to his inventing the geodetic method of building bomber aircraft.
Instead of traditional construction, where long spars ran from end to end, geodetic planes were based on a heavy duty mesh.
This was strong and light but ultimately proved difficult to adapt to new designs and modifications.
He achieved a global profile with the Dam Busters raid of 1943 and the 1955 film of the same name, in which he was played by Michael Redgrave.
Mr Wallis perfected a barrel-shaped explosive charge weighing more than 9,000 lbs (4,000 kg) which, when dropped from an aircraft at the right speed, height and distance from target, could skip across the surface of a lake.
This allowed the RAF to launch precision attacks on four dams in the heavily industrialised Ruhr Valley, badly damaging two.
After these attacks, Mr Wallis worked on further bomb designs, particularly six and 10 tonne "earthquake" models which were intended to wreck large structures such as bunkers and bridges.
In the decades following the war, he continued to work in engineering, including the development of swing wing aircraft.
He was was knighted in 1968 and died in 1979. His birthplace in Ripley is marked with a plaque and a nearby pub his named after him.