Derby soldier's praise for injured comrades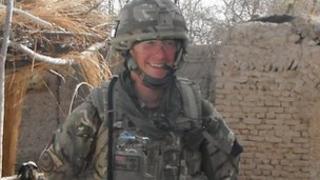 A Derby soldier who received a gallantry award for saving the lives of two comrades in Afghanistan said it was a privilege to serve with them.
Lieutenant Thomas Onion, 25, was leading patrols in Helmand with The Mercian Regiment.
On two occasions he helped rescue men who had lost legs in explosions, despite more bombs nearby.
Lt Onion said he was proud to be Mentioned in Despatches but also moved by the bravery of injured colleagues.
Patrols were sent into areas strongly held by insurgents and planted with improvised explosive devices (IEDs).
His citation described how, after his comrades were injured, Lt Onion organised rapid treatment and evacuation, once running past other IEDs to deliver first aid.
'Amazing mindset'
He said: "Obviously it's a shock seeing guys missing their legs or seeing someone taking a bullet to the chest but we are professional soldiers.
"It's a bit of a cliche but the training takes over, particularly with a casualty when you [are] the commander.
"You immediately feel the responsibility to ensure that guy gets away from the battlefield as soon as possible to get the right medical care."
Lt Onion paid tribute to the spirit of his men, especially the wounded.
"It was a privilege to command such brave guys, you could not ask for better men.
"(The injured men) are doing extremely well, they have an amazing mindset.
"One said you me 'you know boss, it's the same life just a different plan', which is incredible."
Mention in Despatches is fourth in the rank of military awards after the Victoria Cross, Conspicuous Gallantry Cross and Military Medal.