'Lucky escape' after car hits houses in Borrowash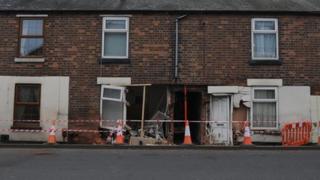 A resident has said he is amazed nobody died when a car crashed into a row of terraced houses in Derbyshire.
Three people inside a BMW convertible were treated for non-life-threatening injuries after the crash on Nottingham Road, Borrowash, on Saturday.
The impact, shortly before 01:30 BST, left two homes badly damaged although no-one inside was injured.
Ron Holdsworth, who lives across the road, said he had thought the worst when he saw the crash scene.
"About 30ft of railings had been taken out as well as the front of two houses and the car ended up about another 20ft down the road," he said.
"I automatically thought it must be a fatal. I thought someone must have been killed in it by the state of the car.
"Parts of it just went everywhere. Someone was looking down on them."
An earlier version of this story reported a woman had been arrested in connection with the crash. This was based on information given by Derbyshire Police. The force now says that information was incorrect.