Ripley school parents: Council cuts put pupils at risk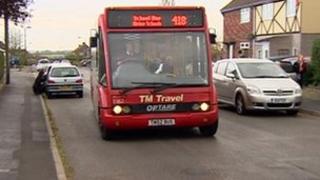 The axing of a free bus service for schoolchildren in a Derbyshire town is putting pupil safety at risk, some parents say.
Parents of children at Ripley Junior School are lobbying to reinstate the service which has just been cut by the county council to save money.
Some children have to cross two busy roads to get to school.
The county council said pupils who lived more than two miles from school would continue to get the free bus.
Car sharing
"We can't continue paying for transport for children who aren't entitled to it, because they live less than two miles from school," the county council said.
The free bus service has been operating for 22 years.
A mother who has an autistic son at the school said she was devastated at the loss of the service.
Another parent, Linda Beastall, said: "We have approached to the council and asked about crossing facilities but that has been turned down… so we are campaigning to ensure we can resurrect a bus service."
Derbyshire County Council is saving £1m by cutting services to 2,200 students in the county who live less than two miles from school.
A council spokesman said: "The school was made aware of the situation more than a year ago and has been working with parents to try and offer alternatives including free before and after-school sessions so parents can drop off their children earlier or collect them later.
"We'll also be working with the school to promote other alternatives such as car sharing and walking bus groups."