Swanwick Junction railway club wiped out by arson attack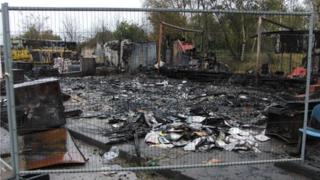 A group of model railway enthusiasts have vowed to keep going after their club houses and equipment were destroyed in an arson attack.
Two wooden buildings owned by the Swanwick Junction club were set alight at the Midland Railway Centre in Butterley on Sunday.
Both buildings were destroyed as well as model trains, controllers and tracks built up over the past 20 years.
Club secretary Dave Wragg described the fire as "heartbreaking".
Derbyshire Police confirmed the fire was being treated as suspicious but said no-one had yet been arrested.
'Nearly in tears'
The Midland Railway Centre has now offered the group a temporary home while it raises money to build a new brick base.
Mr Wragg said: "It's the hours of work that's gone into it. A lot of group members have nearly been in tears to be honest."
He added if the blaze had happened two weeks later, much of the equipment would have been at his house where it is kept during winter evenings.
Midland Railway Trust development officer Alan Calladine said security would be stepped up at the site while investigations continued.