Ash disease 'would change Peak District irreversibly'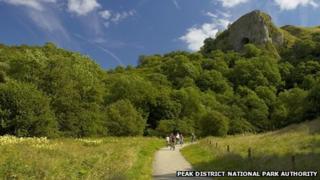 The body responsible for conserving the Peak District has asked people to avoid planting ash trees in an effort to stem the spread of Chalara ash dieback.
The Peak District National Park Authority also wants people to contact them if they have planted ash trees in the area in the last six years.
No cases of the disease have been found in the Peak District, but new trees are the most likely source of infection.
The Peak District ash woodlands are among the most important in the UK.
Of all Special Areas of Conservation in the UK, the Peak District has the most hectares of Tilio-Acerion ravine woodland, a habitat which includes ash trees.
Jane Chapman, head of environment and economy for the authority, said: "This is a serious disease and if it took hold in our woodlands it would change some of our most iconic landscapes irreversibly.
Hidden trees
"We're asking anyone who has planted any ash trees in the national park in the last six years to contact us, be they individual trees or part of a larger planting scheme."
Those being asked to contact the authority include private landowners, farmers, community groups who may have planted a tree in a village, or even people who have planted ash trees in their gardens.
The authority wants to make sure its map of ash trees is up to date so Chalara ash dieback can be monitored and tackled if cases are found.
While mature ash trees are easier to spot because of their size, the authority is concerned that smaller ones could be hidden.
An action plan set out by the government said newly-planted diseased trees and diseased trees in nurseries would be traced and destroyed because once young trees become infected, they succumb to the pathogen.
However, there was no intention to fell mature trees.
Ms Chapman said: "We're recommending people not to plant new ash trees at all, but to choose alternatives according to soil conditions, such as common beech, field maple, common lime and native oaks."
People are being allowed to access woodlands in the Peak District as normal.
However, the Peak District National Park Authority is asking people to clean their footwear, clothing, cycles and buggies, so that fungal spores are not transferred from one area to another.
Seven limestone dales in the national park contain some 900 hectares of ash woodland, including landscapes such as Lathkill Dale, Dovedale, Monsal Dale and the Manifold and Wye Valleys.