Derbyshire flooding: Roads closed after heavy rain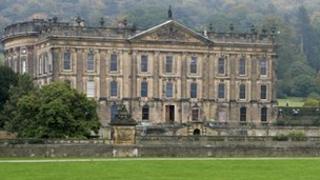 Several roads in Derbyshire have been closed after flooding caused by heavy rain overnight.
The Environment Agency said the A6 in Bakewell and part of the A38 near Alfreton were closed.
And Sunday's Christmas market at Chatsworth House, near Chesterfield, has been cancelled due to the weather.
Derbyshire Police advised people to avoid unnecessary journeys because of fallen trees and other debris on the county's roads.
'Very treacherous'
Other roads hit by flooding include the A617 at Temple Normanton and the A632 near Walton.
"Motorists are warned to take care because of poor driving conditions caused by high winds and rain," a police spokesman said.
"The county has a number of blocked roads because of fallen trees and other debris and motorists are advised not to drive unless absolutely necessary."
An Environment Agency spokesman said: "Some areas are very treacherous at the moment, so we would advise the public to be very careful."