Derbyshire Dales: Complaints over missed bin collections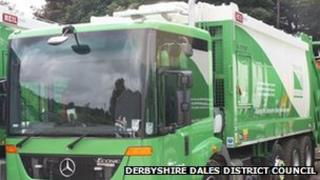 Residents in the Derbyshire Dales are calling on a council to take action against its refuse contractor after waiting weeks for bins to be emptied.
The village of Tideswell was said by some to be "a disgrace" after rubbish was left uncollected for four weeks.
Derbyshire Dales District Council has apologised and said it was "putting pressure on Serco, its contractor.
Serco, which was awarded the contract in August, said it was rectifying the delays "as a matter of urgency".
The authority provides waste collection services to 33,000 households.
One Tideswell resident Bob Walkden said: "In the food caddy you put things like peelings and old kitchen waste - but they haven't been emptying it.
"I've had it for four weeks, and with food waste that isn't very clever."
Director of community services Peter Foley said the council was looking at Serco's contractual obligations and putting pressure on the firm to provide an efficient service.
He said: "We always knew there would be some disruption to service - but what has happened is way beyond that."
Mike Boult, Serco managing director, said: "We are taking every possible step to resolve the problems with the waste and recycling collections.
"We would like to assure everyone our priority is to ensure everything is brought up to date as quickly as possible and a consistent and reliable service established to all residents."