YMCA Derbyshire: Budget cuts to have 'devastating' effect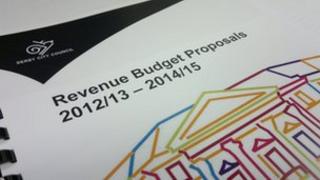 A Derbyshire charity has said government funding cuts will be "devastating" for its future.
YMCA Derbyshire will lose 84% of its funding from Derby City Council in March 2013 after the government gave local councils the authority to make cuts to voluntary groups.
The charity thinks the cuts will see an increase in crime and homelessness.
But Derby City Council, which has to make savings of £63m by 2015, said it would still support people at risk.
Rachel Morris, YMCA Derbyshire's head of housing and communities, said many young people at the YMCA's 88-bed hostel in Derby were vulnerable and had mental health problems or learning difficulties.
She said: "We won't be able to provide support for the young people that live with us and won't have any money to pay staff or for services to be able to help them with getting benefits, getting into work and finding housing.
"We understand the council have to make the budget cuts but this is a short-term decision which is going to have some very long-term, expensive implications."
'Treated fairly'
The charity's chief executive has written to David Cameron asking him to re-think the funding support available for the homeless nationally.
In reply, the Department for Communities and Local Government said: "The government has always been clear that the voluntary sector should expect to be treated fairly and proportionately with other services."
A spokesperson said for those reasons it had issued guidance to local councils to consult voluntary organisations on any changes to funding and services.
Fareed Hussain, Derby City Council's cabinet member for adults and health, said: "We haven't got enough money to distribute to everybody who needs our help but we have to focus on those people who will be at a much greater risk.
"We will do what we can to protect the people at risk with the money that we have got."