Derby County Nazi salute photo fetches £550 at auction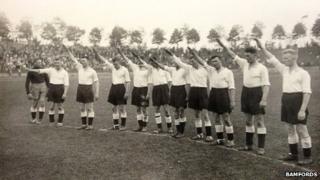 A photograph of a Derby County football team giving the Nazi salute has been bought for £550 at auction.
The picture is part of an album of the club's 1934 tour of Germany.
An order from Hitler's officials to give the salute had been backed by British diplomats, and only goalkeeper Jack Kirby refused.
Auctioneers Bamfords, of Derby, said a telephone bidder from the local area had bought the album, one of only two it had sold in the past decade.
'Compelling image'
Auctioneer Steven Iredale said: "It is an extraordinary record of a historic time and of that moment in particular.
"The story it tells, especially with the reaction of Jack Kirby, is just fascinating.
"It is just such a compelling image but it would be wrong to judge the players by what we know now - they were probably very uncertain of what was going on and were worried about being impolite."
Derby County played four matches in four cities against German XI teams, losing three and drawing one.
In May 1938 an England football team, which included the legendary Stanley Matthews, notoriously gave the Nazi salute to a packed Olympic Stadium in Berlin.