Robin Baldry ex-Derbyshire council chairman sentenced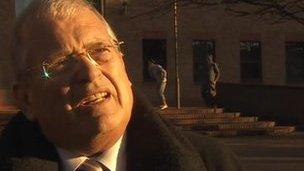 The former chairman of Derbyshire County Council has been given an 18-week suspended prison sentence for falsifying his expenses.
Robin Baldry admitted two counts of theft, amounting to more than £2,200.
Derby Crown Court heard he submitted inflated mileage claims and had claimed for meals when at catered functions.
Outside court Baldry, who was also banned from any public office for the next five years, apologised for his actions.
The court heard he had inflated mileage claims for driving to and from the county council's Matlock headquarters.
He must repay the money to the council as well as court costs of more than £6,340.
Judge John Burgess said: "You were placed in a high degree of trust, you should have been setting an example."
Baldry, who was chairman of the county council from June 2009 to April 2011, said: "I'm stupid enough to have not seen it and I should have done, I'm experienced enough, I've been in it long enough, but I mis-judged it."
He will be electronically tagged and subject to a night time curfew for four months.
The matter came to light during a council audit review.
Related Internet Links
The BBC is not responsible for the content of external sites.