Amber Valley Borough Council deletes chief executive post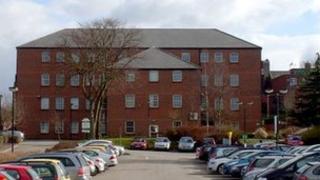 A council is "deleting" the post of its most senior member of staff to save money.
Peter Carney, the chief executive of Conservative-led Amber Valley Borough Council, in Derbyshire, is currently paid a salary of £102,000.
The council's Labour group said it was concerned it will be left without a member of staff who is ultimately responsible.
The council said it was a difficult decision in "difficult times".
It is not known when Mr Carney will leave, or how much the council will save once his redundancy package has been taken into account.
In a statement, councillor Stuart Bradford said: "Following lengthy debate, and careful consideration of the reports, the council decided to delete that post from the organisation,"
He added that the council had been able to make the decision because it has a "strong and stable" team of senior officers.
Mr Carney will be made redundant, the council confirmed.
It is proposed that his statutory role as head of paid service will be undertaken by the executive director of environmental services, as an additional responsibility.
Opposition concerns
Further details of the council's new structure have not been released.
Councillor Paul Jones, leader of the council's Labour group, is concerned that there hasn't been any consultation about the decision.
He said it was unclear how the council will work without a chief executive.
"The trouble is when you start dissipating responsibilities sometimes things fall through and you are not actually sure who is actually ultimately responsible," he said.
"In this revised structure, when we know what it is, I assume if they are not having a chief executive it will be divided between several officers. It could then lead to confusion of responsibilities.
"Why do you have chairmen of the board, why do you have chief executives? It's actually having a single figure who actually leads the direction of the council and who you can contact."