Low bridge in Ambergate hit five times in six months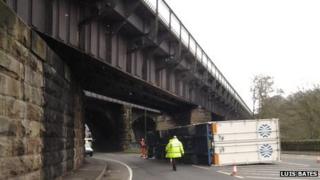 Five lorries have hit the same railway bridge in six months - despite "plenty" of signs warning about its height.
A lorry overturned in the latest accident at the bridge on the A6 in Ambergate, which happened at about 11:40 GMT.
Derbyshire County Council said all the correct signs were in place warning motorists it is a low bridge.
The Professional Drivers Foundation (PFD) said drivers could be trying to "have a go" at fitting through.
Pat Nicholson, trustee of the PDF, said: "It never ceases to amaze me how this keeps happening with bridges.
"From what I can see there are plenty of warning signs.
"I don't know whether they are inexperienced drivers and they think 'I will try and have a go'."
Mrs Nicholson, who has driven heavy goods vehicles for 30 years, added: "I hate to say it because I don't like to criticise lorry drivers, I really don't, but there is no excuse for it.
"The only thing I would question is whether it is signposted far enough away for them to back up and take an alternative route."
Bike squash fear
Gill Hirst, of Bullbridge and Sawmills Area Civic Society, said the signage needs improving before someone is killed.
"These are thumping great lorries," said Mrs Hirst.
"If you had been on a bicycle going past you would be squashed."
A low bridge on the A610 in Sawmills, near Ambergate, was removed in July because of 20 accidents with lorries in 20 years.
Mrs Hirst said removing the bridge has moved the problem, because more high-sided vehicles have started travelling through Ambergate on the A6.
A Derbyshire County Council spokesman said: "When the facts have been established we will consider whether any action needs to be taken at the bridge, but at the moment it is too early to say what, if anything, needs to be done."