Methadone beaker parents 'did not think toddler was at risk'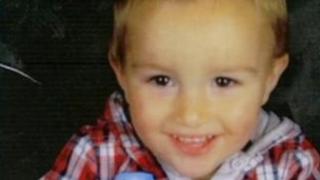 The parents of a Derbyshire toddler who died after drinking methadone have told Nottingham Crown Court they did not think he was at risk from the drug.
Sally Dent, 33, and Shaun Binfield, 45, deny the manslaughter of two-year-old Riley Pettipierre in March. Ms Dent is also charged with child cruelty.
Riley died after drinking Ms Dent's prescription methadone which had been poured into a child's drinking beaker.
The prosecution said their actions added up to gross negligence.
His parents said it was a terrible accident, and that he was so active he must have climbed on top of a CD rack where it had been placed by his father.
The court heard Dent had a history of drug use going back many years and was prescribed methadone to try to rid her of the habit.
Mr Binfield repeatedly told jurors he did not register that the beaker was in the bedroom.
He said he put the beaker containing the methadone on a CD rack that was on top of a chest of drawers so Ms Dent could drink it during the night if she needed.
'Ticking timebomb'
He said a cup containing the drug was sometimes kept on top of the wardrobe in their bedroom but had been moved on that occasion so it was more convenient for Ms Dent, something which had not happened before.
Mr Binfield told the court he awoke before his partner on the morning of the tragedy on March 13 last year.
He said he simply forgot to move the cup out of harm's reach because he became preoccupied with putting out the family waste bins and the childcare routine.
Shaun Binfield said "if alarm bells had rung" he would have moved the methadone. "My son would still be here now," he added.
Referring to the location of the methadone, prosecuting barrister Yvonne Coen QC said to Mr Binfield: "Was it not like having a ticking timebomb on the side there?"
He replied: "I didn't think. I wish to God I had done."
The trial continues.