Derbyshire prepares for snow disruption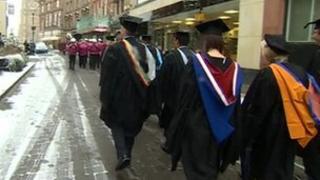 Councils in Derbyshire say they are continuing to grit roads across the county in anticipation of up to 10cm (4in) of snow.
Drivers in Derbyshire have been urged to take care and many schools closed as the East Midlands faced severe weather on Friday.
East Midlands Trains said it was running a near-normal service but the weather had caused a few delays.
Landings and take-offs were temporarily suspended at East Midlands Airport.
A spokesman said the delays were expected while snow was cleared and checks were carried out on the airfield.
Derbyshire County Council said its primary routes had been treated from lunchtime and decisions on further action would be confirmed after feedback from the depots regarding conditions,
The city council said it would monitor weather conditions and continue to grit the city throughout the day.
Chesterfield Borough Council said it had cleared streets and gritted pavements around the town centre on Friday morning in advance of further snow.
High Peak Borough Council said its waste collections had been suspended from mid-morning, and the city council said it might have to stop refuse and recycling collections if the weather became difficult to operate safely.
It advised residents to return their bins to their property as it was unlikely to catch up on outstanding bin collections after snow disruption earlier in the week.
BBC Radio Derby listeners reported empty shelves at two supermarkets apparently caused by customers "stocking up".
The radio station was sent two photos taken at Sainsbury's stores in Ripley and Matlock on Thursday night, showing the apparent bread shortage.
Matt Savage from Whatstandwell, who emailed the Ripley photo, put it down to "panic buying".
A spokesman for Sainsbury's said: "We have been planning for this kind of weather for some time. We're working closely with our suppliers and our depots to make sure that our stores are well-stocked."
"We've ordered extra quantities of staples such as bread, milk, tinned soup and hot cereals... (and) stocked up on salt and hot drinks."
Both Derbyshire Police and the Highways Agency continue to warn motorists to be prepared for the conditions - which are set to worsen later in the day - and to avoid unnecessary journeys.